Overview of PureWin App
If you want to play all your favorite online casino games and sports betting on the go, then the PureWin app can be an ideal option for you. The app allows you to easily access an array of live casino titles, sports betting options, online casino games and more.
Install the app, signup and deposit in a few simple steps to win money and bonuses. The interface of the app is extremely user-friendly and easy to navigate. Those without any technical knowledge can also use the app. On the other hand, the PureWin app's system requirement is not that high, so no matter what your device is, you will be able to install it without any hassle.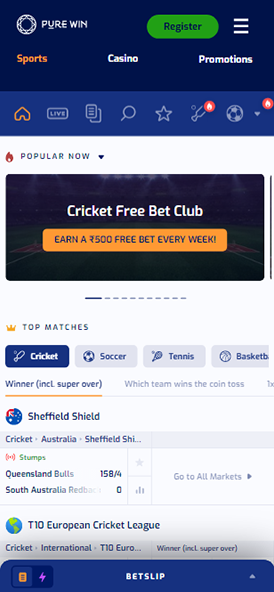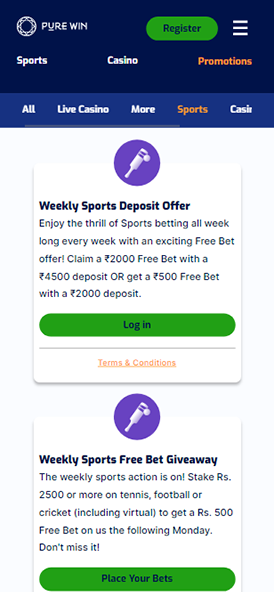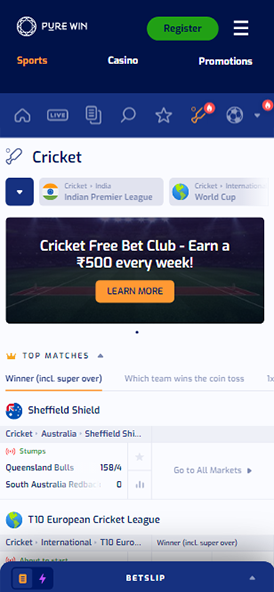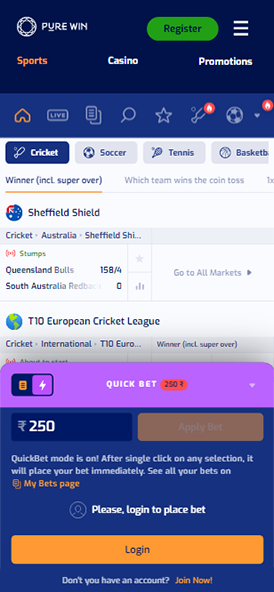 App Info
| | |
| --- | --- |
| Application version | 1.0 |
| App File Size | 34 MB |
| Operating System | iOS, Android |
| App Cost | Free |
| | |
| --- | --- |
| Language | English, Bengali, Hindi, Kannada, Telugu |
| Available Currencies | INR, CAD, USD, EUR |
| Deposit /Withdrawal Methods | PayTM, UPI, Visa, Skrill, Cryptocurrency, EcoPayz, Mastercard, Neteller, EcoBanq |
| Live Bets | Yes |
Pros of Using PureWin App
If you love placing bets through interactive as well as interactive sports betting platforms and want to enjoy access to some greatest and latest casino games, then it's time to give PureWin a try.
One of the important factors of any betting site is its license. PureWin has the Curacao gaming license. Besides, the platform offers amazing welcome offers as well.
Some other important features of the PureWin app are as follows:
Pros
The platform supports four different Indian languages.
The users can withdraw and deposit money in Indian rupees.
PureWin offers 24-hour customer support to all its users.
You will find a massive number of bonuses along with an attractive welcome bonus.
The application runs smoothly on any device.
Apart from sports betting, PureWin also provides users with different types of online casino games.
Cons
Limited betting promotions are available on the app.
The live betting platform of the app requires improvement.


Bet Types Available on PureWin App
PureWin has been adding new products and games quite frequently. Initially designed to offer casino games, the app now supports sports betting and more.
For example, the PureWin app allows you to play more than 40 casino games, like Baccarat, Blackjack, Dice Games, Money Wheel, Roulette, Dragon Tiger and more.
Besides, it also has many interesting slot games as well as jackpot games. For instance, you can play Aztec Falls, Medusa Hunt, Beast Mode and more. PureWin also has a few games to satisfy the Indian players, such as 14-card, Teen Patti, Andar Bahar and more.
Moreover, the PureWin app offers more than 30 amazing and fancy scratch card games. A few popular scratch card games you can play are The Big One, Tiger Scratch, Balloons, Cash Pool, etc.

If you are someone who loves sports betting, then the PureWin app will never fail to amaze you. The sportsbook available with this app is quite impressive. It supports a huge selection of virtual sports, sports events and more for betting. Here you will discover more than 20 different sports.
Most of the Indian players prefer to bet on the IPL, Hockey, Formula 1 Basketball, Football, Cricket, Dota 2, Counter-Strike and Tennis. Some also go for Water Polo and Darts.
PureWin lists out several sports each day and allows you to make around 10 to 15 accurate predictions for every match. You can also take part in matches and tournaments that every sport offers. What's more? It allows you to bet on many live events too.
Cricket Betting on PureWin App
PureWin is one of India's most popular betting sites and has made cricket betting a lot easier for its users through its app. PureWin provides users with a huge selection of sports betting options, including international cricket.
If you are a huge fan of cricket, then this sports betting app will not disappoint you. PureWin offers you an easy way to take part in various cricket events in Sri Lanka, Pakistan, Bangladesh, India, Australia and England. You can bet on Pakistani Super League, Indian Premier League, Test, ODI, T20 and Caribbean Premier League.
Wondering how to place a cricket bet? Here are some instructions that you need to follow.
Select the cricket game of your choice on the platform and click on it.
Choose the championship and a specific cricket match.
Next, you need to choose the odds and specify the type as well as the amount in the betting slip.
The prediction will be done after the end of the tournament. If you win, the winning amount will be instantly credited to your balance.
Betters can choose any events as per their preference and choose a bet type. Some of the popular bet types available at PureWin are top batsman, winner, under or over and more. Besides, the wager can view the odds of a particular event. You can see the cricket betting slip, bet type, event, odds on the screen's right side. Compared to other Indian sportsbooks, PureWin's cricket odds are decent.
Difference between PureWin App and the Mobile Version
PureWin always ensures that the users have different options to access the platform and play their favorite games anytime they want. That's why they have introduced both the mobile version and app version of PureWin. You can choose between the two based on your convenience.
You will not witness much difference between these two options. But in some cases, you may experience a little dissimilarity while using the mobile app and mobile site.
If you want to use PureWin mobile app, you will have to download and install the app. However, in the case of the PureWin mobile version, you can play the games in any compatible browser. It doesn't require you to download any software.
The mobile app comes with some minimum system requirements and will run only on certain devices, but the mobile version can work smoothly on any mobile device.
While using the PureWin app, it will be easier for you to get all the latest updates on your mobile phone related to tournaments, events, offers and more. But the mobile website doesn't support this feature.
The app version offers more customizations. On the other hand, using the PureWin mobile version allows you to use all the website features, like taking parts in different promotions, sports betting, live casinos, managing financial transactions, and more.
If your smartphone doesn't meet the minimum system requirements to run the app, then you can use the mobile version of the PureWin website. Just open the official website in the mobile browser, and you are all set to enjoy the games.
It may be noted that the mobile version is encrypted with SSL256. So, you don't have to worry about data theft. However, to place betting using the mobile version, you will need a strong internet connection. You can use browsers like Opera Mobile, Firefox Mobile, Google Chrome, Microsoft Edge and Safari to access the mobile version. Make sure that your device has at least 2GB of RAM and the minimum screen resolution is 1136 x 6430 pixels.
PureWin App
The app must be downloaded and installed for use.
The app offers better functionality and speed to the users.
The app ensures greater security of the financial and personal information of users.
The app occupies space on the mobile device of users.
The app provides notifications to users on a regular basis.
PureWin Mobile
The mobile version does not require downloading and can be used directly.
To function fast, the mobile version requires a stable internet connection.
It provides security to the personal and financial information of the users.
The mobile version does not occupy any space.
The mobile version does not provide any notification to the users.
Mobile Device and System Requirements
You don't need a high-end device to run the PureWin app. The app system's requirement is low, and you can easily install and run the app on any device. However, you should know that the app is only available for android devices. They have not released their app for iOS devices yet. But the, iOS users can take advantage of PureWin mobile version to play the available games.
Before downloading the app, you should know the minimum system requirements to use it smoothly. Make sure that your smartphone's OS runs on Android 6 or above. The app requires a minimum of 1GB of RAM size. You will need at least 100 MB of free space in terms of storage. The required CPU capacity is 1GHz.
The PureWin apk may not run smoothly on low-end devices. You may experience graphics or freezing problems. However, if your device meets the above-mentioned system requirements, download the app now to bet on different sports. The app works flawlessly on the following devices:
Android
| | |
| --- | --- |
| OS | Android 5.0 or higher |
| RAM | 1GB + |
| Processor | 1.4 GHz or Higher |
| Memory Space | 100 Mb |
Samsung Galaxy S4
Samsung Galaxy Note 3
Nokia 808 PureView
Asus ZenFone series
Oppo Reno series
Huawei P8 Lite
Xiaomi Redmi Note 9 Pro
LG G2
HTC One
Samsun Galaxy Note II and S6
Fly IQ441 Radiance;
Nokia Lumia 920;

iOS
| | |
| --- | --- |
| OS | iOS 8.0 or Higher |
| RAM | 1 GB |
| Processor | 1.4 GHz or Higher |
| Memory Space | 100 Mb |
iPhone 6S
iPhone 7
iPhone 5S
iPhone XS
iPhone 12 Pro
iPhone 8 Plus
iPad 2
iPad 7
iPad Air 4
iPad Mini
iPad Air

Steps to Download PureWin App on Android Device
The mobile version of PureWin works quite smoothly on all Android devices. You can also download its well-developed and full-fledged mobile apk and install the app on any of your smartphones that match the system requirements.
Here are the steps you should follow to start using the app on your smartphone.
1
Change Your Device Settings
First, you need to head over to Security Settings on your smartphone and then turn on the option for the installation of apk files from unknown sources.
2
Download the Application
Search for the PureWin app in the Google Play Store, or you can even download the apk from the official website of PureWin.
3
Allow Installation
Often, the security system of the Android devices blocks installing programs from unknown sources. So, in order to allow installation, you will have to make some changes to the settings. Go to the settings of your mobile device, then the security settings, and then allow installation from unknown sources. This will enable the Rajbet app to be downloaded smoothly on your mobile device.

Steps to Download PureWin App on iOS Device
Though the PureWin app isn't compatible with iOS devices yet, you can still enjoy betting through your iPhone or iPad. You can use the mobile version of PureWin to start enjoying live casino games and sports betting.

Tips to Install PureWin App
Once you download the PureWin app, you need to create a new account using the required details, such as your name, country, currency type, date of birth and more, to start placing bets. However, to avoid any issues in the future, ensure that you enter the correct details while signing up. Don't worry; your data will remain safe and not be shared or leaked to any third party.
Payment Methods
One of the major benefits of the PureWin app is the availability of different payment options. It supports three different currencies, i.e., EUR, INR and USD. With the INR payment method, you will not face any fees.
You can make your deposits and withdrawal using the following options:

Players can choose any payment options based on their regions. PureWin's deposit and withdrawal times are quite fast.
Conclusion
It can be said that those who are looking for a new reliable sportsbook app in India, they should go for PureWin. PureWin has managed to corner around 40 to 50 percent of the Indian online sports betting market. Even though the app has certain limitations, it still offers an incredible gaming experience.
It offers bonuses, cricket odds and different types of betting markets. PureWin is fair and welcoming. They have all things an online gambler needs, such as safety, diversity, multiple payment methods, several sports betting options and more. So, go on, download the app and start enjoying your favorite games.
FAQ
Is PureWin Legal and Legit?
As per the official site, PureWin has a valid online gambling license. Besides, all the games available on this platform have been developed by top-rated and licensed game developers. Playing real-cash games through this app in India is safe and legal.
How to Download PureWin Mobile App?
You can enjoy PureWin online games using your mobile browser, or you can download the app using the apk file from the official site or through Google Play Store. Both the web app and PureWin app offer a user-friendly online gambling experience.
How to Get Started with PureWin?
If you want to play games using PureWin apk, you will have to register an account. The registration process is super-fast. Just enter all the necessary details and verify your account. Once you are done doing that, you can start enjoying live casino games and slots. To all its new users, PureWin offers a welcome bonus.
What Is the PureWin's Withdrawal Duration?
To offer its customers best-in-class services, PureWin processes the withdrawal request within four to five hours. You will get your money in your account within five working days.